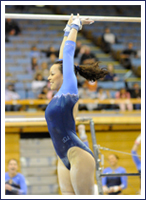 Welcome to the Official Website of Shavahn Church! Shavahn started competing as an elite gymnast for the United State in 2003 when she placed 1st on bars and 4th all around at the American Classic. She qualified to 2003 USA National Championships and placed 6th on bars and 14th all around qualifying to the USA National Team. In 2004 Shavahn qualified to the USA National Championships, but broke her hand during her bar routine on the first day. After coming back from her hand injury Shavahn made a decision to compete for Great Britain during the upcoming competitive year. She qualified to the 2005 World Championships where she placed 20th AA!

In 2006 Shavahn competed at the Commonwealth Games where she placed 5th AA and won a silver medal on bars. Shavahn qualified to the team going to the European Championships, but unfortunately suffered another injury. After a number of set-backs Shavahn decided to go the NCAA route and signed her letter of intent to compete at the University of California, Los Angeles. She is currently freshman at UCLA where she competes around the country.

To follow Shavahn's gymnastics career please visit her site frequently to keep up-to-date on her schedule, results, journals, and more! Please look around the site to learn more about this wonderful gymnast and please sign the guestbook before you leave!


April 21, 2008: April 21, 2008: The 2008 NCAA Championships kick-off this Thursday! The UCLA will be competing in the 2nd competition session on Thursday, April 24th at 7:00pm EST. The Bruins will need to place in the top three teams in the session to advance to the Super Six Finals which will be held Friday, April 25th at 6:00 pm EST. In addition, any Bruin that places in the top four on an individual event during the evening session can qualify to the Event Finals which will be held on Saturday, April 26th at 6:00 pm EST. GOOD LUCK BRUINS!