General Info | Webmasters | Past Layouts
This is the Official Website of Shavahn Church. This is the only site on the internet that Shavahn and her family contribute to. This site was officially opened on April 21, 2003. It has currently had 4 layouts, the first layout change came on August 21, 2003 and the second was on February 14th, 2004. Most recently the layout was modified in April of 2008.

This website is run by The Chalk Bowl. All pictures are copyright Steven Hone unless other wise noted. Everything is © 2003-2005 and may not be used without permission. Photos in main layout copyright (L-R) Erica Machel, Jessica Leigh, Associated Press, Ruth Judson, and Lloyd Smith

This is what the website should look like: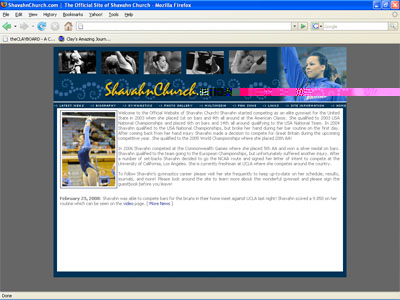 This site is best viewed on Internet Explorer or Mozilla Firefox with a screen resolution of at least 800 x 600. The counter is from Site Meter. Thanks to our wonderful hosts Coastland Technologies.

Thanks for coming to Shavahn Church's Official Website!