2008 | 2007 | 2006 | 2005 | 2004 | 2003
December 24, 2004 Shavahn, the Church Family, and the webmasters would like to wish everyone a safe and Happy Holidays! Shavahn would also like to thank everyone who has helped her during this difficult time. The knee is getting better everyday and can now bend to 136 (the good knee is at 156).

December 20, 2004 Memory has been updated with some new pictures, a new wallpaper was added, and last but not least a new montage with some new training footage!

December 5, 2004 Shavahn would like to thank ActiveWrap- the Official Therapy Wrap of USA Gymnastics which she is using extensively as part of her rehab. She has seen first hand the beneficial recuperative effects ActiveWrap can provide. A little more than a week after surgery Dr. Doug Jackson and his Staff were very impressed by how much the swelling on her knee had been reduced and the fact Shavahn was walking unaided and without crutches. Shavahn believes this is due in no small part to the use of ActiveWrap very early in the recovery process.

December 1, 2004 Shavahn had her first physical therapy session on Monday (about 90 minutes long) and it went very well. She went into the gym for the first time since surgery to do some conditioning (surprised people by the fact that 14 days after surgery she is walking without crutches and is putting full weight on her injured leg!). She will go for another therapy session Friday, and in 4-6 more weeks the screws holding the reconstructed ACL should have done their job and she will be able to engage in more intensive therapy. By mid January Shavahn is hoping she will be given the okay to start swinging bars. A week after her operation Shavahn and her mom were told by Dr. Jackson that there had been a complication with the surgery. One of the screws had cracked as it was being screwed in. The Doctor's attempted to back it out but they were concerned that it might damage the new ACL they had constructed from part of her hamstring. They put 50lbs of pulling force on it and it appeared to hold. Rather than risk further damage they decided to leave it in the backed out position.

November 30, 2004 Congratulations to the winner of Shavahn's contest: Cortney Phillips! Melbourne can be found here

November 15, 2004 Shavahn's surgery was successful today in repairing her ACL. She is now back home and resting, and will be going on a mini-vacation a little later this week! When she returns home it will be back into the gym for light condition and physical therapy.

November 14, 2004 The layout has been slightly modified with some new photos from competitions this year. Our thoughts our with Shavahn and her surgery tomorrow, and we wish her a quick recovery! -Kimmi & Brittany

November 10, 2004 Shavahn's knee surgery is scheduled for Monday the 15th of November. Any well wishes can be posted in the guestbook!

November 1, 2004 A Thanksgiving contest begins today at Shavahn's website! Indianapolis the turkey (shown below) has lost her daughter Melbourne on one of Shavahn's website pages! If you find Melbourne you may click on her and she will lead you to a hidden page that will give you directions to follow to enter the drawing! The winner of this contest will receive autographed photo of Shavahn as well as a "thank you" letter! Contest ends on November 25, 2004.





October 30, 2004 A new interview was added!

October 25, 2004 Shavahn had an MRI today which unfortunately revealed a torn ACL which will require surgery. Shavahn will need to be off full workouts for at least 6 months. Any messages left in the guestbook would be greatly appreciated while Shavahn goes through this difficult time.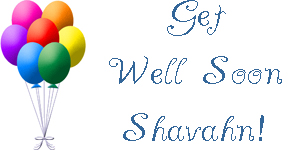 October 24, 2004 Shavahn suffered an injury on her first day of camp yesterday. She had a fall from the bars, and slightly tweaked her knee. The orthopedic surgeon at the camp looked at it and said it seems that the knee is only bruised. Tomorrow she will be taken to the doctors for an MRI just as a precaution. The good news is Shavahn was able to show some of her new skills, including a double twisting yurchenko and a layout Jaeger.

October 17, 2004 A new journal has been added.

October 16, 2004 An interview with Shavahn is now up at The British Gymnastics Net! Click here for the interview and it will also be added to the articles section of the site. Look for a Journal from Shavahn later this week!

September 08, 2004 Shavahn is doing very well in the gym and is training a bunch of new skills that she will do for the first time this coming season, she is also headed to National team camp in October. A new montage has been added that includes a bit of recent footage from training and her teammates page was updated.

August 26th, 2004 Shavahn would like to send out a congratulations to all the gymnasts at the Olympic games and a special congratulations to: The US men and women silver medal teams, Terin Humphrey on her silver medal on bars, Courtney Kupets on her bronze on bars, Carly Patterson on her silver on floor, Annia Hatch on her silver on vault, Paul Hamm on his silver on high bar, and Paul and Carly on their AA gold medals! Shavahn has been busy working in the gym, and is even working on new skills including a layout Jaeger! Shavahn also has some new teammates that will be added to the teammates page in the next few days.

August 8th, 2004 Exciting news about SCATS elite squad! Ashley Jenkins has decided to join SCATS HB. Ashley is an absolutely fantastic gymnast and I would like to welcome her on behalf of my team mates. -Shavahn. Shavahn has also been working hard since she has gotten the go ahead to full workouts! She had been training almost her whole bar routine, and has even been working on some new skills!

July 30th, 2004 Three new 2004 US Classic pictures have been added as well as a revised bar routine on the skills page.

July 24th, 2004 Shavahn's hand is doing much better, and she is even starting to do some light training on bars! So far she is working on kip casts and giants as well as some release moves over the pit. She is icing her hand in between events just in case, but so far has had no pain!

July 19th, 2004 Shavahn's chat went very well yesterday and you can view transcripts on the GymnZone site. Shavahn and the webmasters would also like to congratulate the following girls on making the 2004 Olympic team: Courtney Kupets, Courtney McCool, Carly Patterson, Terin Humphrey, Mohini Bhardwaj, and Annia Hatch (alternates: Allyse Ishino, Tasha Schwikert, and Chellsie Memmel)!

July 18th, 2004 Just a reminder that Shavahn has a chat with GymnZone tonight at 5:00pm PST/8:00 EST. This chat comes right after the announcement of the Olympic team on NBC. Shavahn also has a check-up on Tuesday for her hand, and is hoping to get the OK to resume full training!

July 2nd, 2004 Shavahn had a check up on her hand today. The good news is the cast is off, the bad news is it is not completely healed yet. She will have another check up in 3 weeks!

June 21st, 2004 Shavahn's site moved servers last week, and there was a few days where some pictures and videos were not working. Everything should be up now!

June 19th, 2004 Added more 2004 Nationals pictures.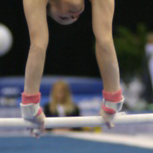 "Houston!....we have a problem"
This picture copyright Jason Koss captures Shavahn catching the low bar after her bail.



June 16th, 2004 Shavahn will doing a moderated chat on July 18th (5:00pm PST/8:00pm EST) at www.gymnzone.com. You must be a member to submit questions and read the chat, please go check out everything and see what it is all about!

June 13th, 2004 Lots of little updates around the site. Some new Family/Friends, misc, 2004 Nationals, and 2004 American Classic pictures have be added.

June 12th, 2004 Today the Southern California Gymnastics Association recognized all the international elites from the southern California area. Gymnasts included: Ivana Hong, Shantessa Pama, Kahley Rowell, London Phillips, Mohini Bhardwaj, Allyse Ishino, Tabitha Yim, Ashley Jenkins, and of course Shavahn Church. The picture below is of Shavahn, Celeste Hamil (State Chairman), and Jenkins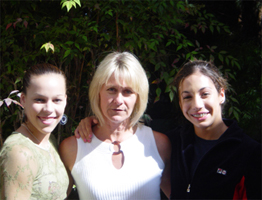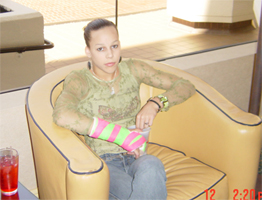 June 11th, 2004 Pictures of Shavahn's new cast have been added to the misc pictures.

June 10th, 2004 Good News about Shavahn's hand! The specialist in L.A. examined her hand and was very happy with the way it is healing. He said surgery will not be required, and they put a new cast on that is green and pink stripes. The new cast will come off in 21 days, and she should be almost totally healed by the National Team camp in mid september. New AIM icons have also been added.

June 7th, 2004 A video of Shavahn's bar routine from last week has been added. Shavahn's x-ray has also been scanned and can be viewed by clicking here.

June 5th, 2004 Revamped the photo page, added 2004 Nationals, 2004 US Classic, and Misc pictures.

June 3rd, 2004 Shavahn has suffered a broken hand today at Nationals. During her bail in her bar routine, her hand was broken, but she went on to complete her routine for a 9.075. She was then taken for x-rays, that determined that hand was indeed broke. She will need to have surgery, which will take about 5 weeks to heal. GET WELL SOON SHAVAHN! ETA: Shavahn will be petitioning onto the National team and also placed 6th on Bars!

May 30th, 2004 Shavahn leaves tommorow for Tennessee, where she will be competing in her 2nd US Nationals! Juniors are scheduled to compete on Thursday and Saturday, look for results to be posted as soon as they are made available. GOOD LUCK SHAVAHN!

May 25th, 2004 Many little updates have been done around the site, a US Classic photo gallery has been added, as well as two misc. pictures, and 2004 US Classic Videos. Shavahn is currently preparing for nationals, where she will be the lone competitor from SCATS. Her teammate London's injury was to severe to risk working out on, and she will not be able to compete.

May 17th, 2004 Shavahn ended up competing AA yesterday at the team cup. Here are the unofficial reults...she scored a 9.025 on vault, 8.1 on beam with two falls, 9.475 on bars, and a 9.175 on floor. AWESOME JOB SHAVAHN!

May 16th, 2004 Shavahn competed in the US Classic yesterday, and did very well! She started off on vault, and competed well for a score of 9.0 and 8th place. Next was bars, she was flat on her handstand after her bail but was still happy with her score of 8.9 and 6th place. Beam had a few wobbles, but she received many comments on how improved it was and she scored a 8.625. Her last event was floor which she scored a 9.175 for 3rd place. She ended up with 5th place AA, and will be competing Floor and Beam today at the Team Cup! Her teammate London had an unfortunate injury to her ankle in training on Friday, and was only able to compete Bars.
Picture to the left is from the competition yesterday and is copyright J.C Leigh

May 13th, 2004 Shavahn is competing this weekend at the US Classic in New York. Although Shavahn has already qualified to nationals, her teammate London has not, so Shavahn will be using this as a practice meet. We would like to wish both Shavahn and London the best of luck! Shavahn also turned 15 on May 3rd, HAPPY BIRTHDAY SHAVAHN!

April 11th, 2004 Shavahn returned from camp today and there is a new journal about her time at the ranch. There is also a new interview up from the Cypress Chronical.

March 22nd, 2004 Videos from the American Classic have finally been added, sorry for the delay! Small coach updates have also been made.

March 10th, 2004 Photos from the American Classic have been added, videos will be on the way soon!

March 6th, 2004 Shavahn did very well at the American Classic this weekend! She finished 5th AA, and qualified to Nationals and the team portion of the meet today. Today Shavahn had a slight injury to her ankles on floor, and only competed Vault and Bars, and did very well on both! Results have been added and videos and photos will are on the way.

February 16th, 2004 Videos of the Hall of Fame Classic have been added to the site along with photos of the meet.

February 15th, 2004 Shavahn competed in the SCATS Hall of Fame Classic today, and displayed some of her new elite skills! Not only did she compete, but she swept every event and even won the AA. The SCATS Level 10/Open team also took first place with Shavahn, Kiwi Redmond Jessica Laughton, and Naomi Manea. Shavahn competed both a Yurchenko 1/1 and 1 1/2 for a score of 9.725. On Bars Shavahn warmed up a new release combination including .3 in bonus, she recieved a 9.4. On Beam she did her usual BHS LO series, front layout+sheep jump, and a double back pike dismount for 9.175. On Floor Shavahn had a lot of new tumbling, she has even added a fourth pass. Her passes tonight included a layout 1/2 + double front and a FHS LO Double twist, for a 9.575! CONGRATS SHAVAHN ON AN AWESOME MEET. She leaves Tuesday for a national team training camp, pictures and videos will be up shortly.

February 14th, 2004 Happy Valentines Day! Shavahn's site has an all new layout, and she is competing tommorow in the SCATS Hall Of Fame Classic, GOOD LUCK SHAVAHN! There are also new videos from 2003 Nationals up! Look for more results, pictures, and videos this week.

January 10th, 2004 Shavahn had a wonderful time training at the camp this past week, and said she had some awesome training. She was picked as one of the 3 girls competing AA in the Japan vs. USA meet, however, the meet didn't go as well as planned. Shavahn is now looking foward to the Hall of Fame Meet and American Classic where she knows she can improve her performance