2008 | 2007 | 2006 | 2005 | 2004 | 2003
December 29, 2005: A new journal has been added!

December 26, 2005: Shavahn is very happy to announce she is now training at Waller's GymJam Academy in Santa Clarita, California. Shavahn will be coached by Chris Waller and Kristen Maloney and is very much looking forward to the up-coming year.

December 20, 2005: Due to circumstances beyond her control, Shavahn will no longer be training at SCATS HB. Shavahn and her family are currently looking at their options. They would like to take their time in this process, and are still hoping that Shavahn will be able to compete for Britain in the future.

December 2, 2005: Photos from 2005 World Championships and training at the 2005 Glasgow World Cup have been added. Also a huge congratulations to Shavahn's oldest sister, Carley, who had her baby girl yesterday afternoon! Kennedy Rae Huff is healthy and doing well

November 26, 2005: Shavahn competed in AA finals at the World Championships last night. Shavahn started out rough with a score of 8.062 on floor, but came back strong on vault scoring a 9.112 on her FHS front pike ˝ vault. Shavahn did a gorgeous bar routine, but struggled with her dismount for a score of 8.925. After prelims Shavahn and her coach slightly restructured her beam routine giving it only a 9.2 SV, she did well with this routine during finals scoring an 8.112 due to a low start value. Shavahn came in 20th in the AA! Some videos have been added from finals and photos will be up soon.

November 24, 2005: Shavahn has qualified to AA finals which will be held on Friday! Shavahn is also first alternate for vault finals, where she will be asked to compete if one of the other girls is injured. Congrats Shavahn!

November 23, 2005: Shavahn made her international debut at the World Championships tonight in her first AA competition in 1 ˝ years! Shavahn's knee was bothering her prior to the competition, so some routines were competed slightly watered down. Shavahn had a strong showing in her first two events scoring a 9.062 average on vault and a 9.225 on bars. Shavahn struggled on beam where she had two falls, and scored an 8.562 on FX out of a 9.6 SV. Shavahn is over-all pleased with her performance in Melbourne and would like to thank her fans for their amazing support!

November 13, 2005: Shavahn has been selected to compete as part of the British delegation at the World Championships next week! Shavahn will be leaving for Australia this evening and competition starts on November 23rd. Rounding out the rest of the team is Beth Tweddle, Rhian Pugh, and Imogen Cairns. Good luck girls! The complete Schedule for worlds can be seen here and Shavahn is schedule to compete AA

October 25, 2005: Unfortunately Shavahn did not get to compete in Glasgow today due to the 2-per country rule. Since her teammates Rhian and Beth were already competing on bars, this did not leave a spot for Shavahn. Shavahn is very disappointed that she did not get the chance to compete; however, she did get the all clear from her doctor this morning to start training on her foot once again!

October 21, 2005: During training on Monday Shavahn sustained an injury to her foot. Although she is currently feeling better she has not had a chance to train at 100% this week, and therefore will only be competing bars at the Glasgow World Cup. Although this is nothing serious Shavahn is taking this precaution since worlds are very close, and she is still hoping to represent Great Britain in Australia!

October 11, 2005: Shavahn will be leaving for England again this coming Friday. She will be attending camps/competition in England through Sunday the 23rd. She will then travel to Scotland where she will be competing in the Glasgow World Cup. Good Luck Shavahn!

September 14, 2005: Shavahn did well at training camp today hitting her vault and beam routines. She put her hands down on her middle pass on floor and also showed her bar routine without her dismount. Shavahn will be returning to England next month for the 2nd part of their World Trials and has also received an international assignment!

September 4, 2005: Some new photos have been added from one of Shavahn's recent workouts.

August 27, 2005: Most of the pages on Shavahn's site have been updated and message board icons have been added. Shavahn leaves for training camp in England on September 6th, good luck Shavahn!

July 24, 2005: Shavahn has written a new journal.

July 22, 2005: Shavahn has announced her intentions to compete for the Great Britain. For more news please see International Gymnast and The British Gym Network.

July 10, 2005 Shavahn arrived safely in England today and had a chance to watch the event finals portion of the British Championships! Shavahn would like to Congratulate Amy Nunes from Heathrow Gymnastics on her 1st place finish on vault and beam and her 3rd place finish on bars!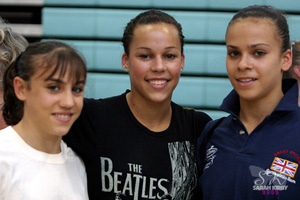 Leigh Rogers, Shavahn, and Amy Nunes
© Sarah Kirby



5 new photos from the 2004 US Classic have also been added.

July 3, 2005 Congratulations to everyone who found Shavahn's training video by doing the scavenger hunt! The video has now been added to the videos page.

June 24, 2005 A scavenger hunt has been added to Shavahn's site. You can follow the clues and find the ultimate prize at the end, a 4 minute training video of Shavahn! Start the scavenger hunt below with clue #1.

1. This was Shavahn's very first national competition (hint: find something in reference to this event to find the next clue!)

Please note: there is no place to "write" an answer, you have to SEARCH for the answer to each clue ON Shavahn's site. This is ONLY a game...please do not get frustrated or upset. If you don't have time to play the game, don't worry it will be up on the site officially in the near future.

June 15, 2005 A new journal entry has been added that updates fans on what Shavhan is up to this summer.

May 3, 2005





April 28, 2005 Shavahn is currently coming back from her injury very well and has resumed almost full training on every event. Shavahn is working on some new tumbling passes that will be a little safer for her knee and has once again started doing vaults into the pit. Today Shavahn celebrated her birthday with her family and friends (her uncle and mother also share her birthday!) so some new Disneyland photos have been added. Some pictures that Shavahn took for Active Wrap have also been added to the misc. section.

March 5, 2005 Shavahn is doing well in the gym and slowly getting back into the swing of things. She has begun some light tumbling on the tumble track and on the floor as well as some vaulting drills. Shavahn has also been working some new and exciting bars skills! Shavahn's goal is to be able to compete her new bar routine by the time the US Classic rolls around.

January 30, 2005 A new journal entry has been added to the site.

January 1, 2005 Added 2 new wallpapers, the results page was updated as well as the videos page, new US Classic photos were added and some new Disneyland photos.